Coronavirus Latest
This page hosts disseminated advice, guidance and support on all matters relating to the Coronavirus COVID-19 outbreak. Please make sure you are following our social media updates on LinkedIn and Twitter so that you remain up-to-date.
An unprecedented situation
All businesses in our sector are facing enormous challenges and now more than ever the requirement for a consolidated, unified voice is imperative.
FEA has a leadership position and is working with ceda, Cedabond, and ENSE to combine knowledge, resource and efforts in best representing and informing our sector.
A trusted source
As the FEA we represent a trusted source amidst the confusion and mire of mis-information surrounding COVID-19.
We want to assure our members that we will continue to exert our influence as the U.K's leading foodservice equipment trade association during this challenging time and will continue to:
Generate knowledge and thought leadership from our unparalleled network of industry leaders and expertise
Provide an open and transparent platform to ensure that the collective industry voice is heard
Champion our shared values, defend businesses and harness the industry's collective strength in this time of adversity
Listen to the foodservice equipment industry and lobby governments for the strongest possible action to safeguard jobs and livelihoods and ensure that policy promises are fulfilled
Provide regular updates and knowledge to help businesses re-emerge effectively from this crisis
The attached documents include our most recent letters to prime minister Boris Johnson and Rt Hon Gavin Williamson lobbying on behalf of the foodservice equipment industry.
EFCEM State of the Market June 2021 Update survey results
The results of the EFCEM State of the Market were presented at June's AGM.  In summary, the survey generally paints a positive picture but financially there are some immediate struggles within the sector: 
62 respondents, the highest we have ever had.

An increasing number of respondents expect to be operating at 100% sales as we move through six months (23%), twelve months (46%), and eighteen-month (63%) periods. 

Governments are supporting their respective industries and everyone that required support has received it.

Most respondents are supporting staffing costs rather than making staff redundant

Customers are paying on time with only 19% of respondents experiencing problems collecting payments

More companies are relying on support, in the November / December issue 65% had not required any support in the form of grants or loans, that has now fallen to 52%.

Insurance claims have proved difficult with all those that have applied not yet being successful.

National government support has taken the form of financial aids for staff and businesses forced to close. Grants for affected businesses. Increased subsidies. Tax credits.
View the full EFCEM State of the Market June 2021 Update results.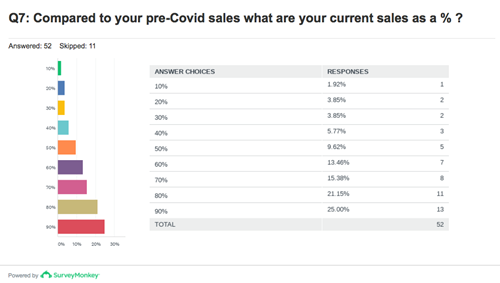 ---
Watch the FEA's quick-start guide to recommissioning your kitchen or restaurant
This guide operates as a reference point for restaurant owners, kitchen managers and chefs who are restarting their operation after a prolonged closure.
You will find details on gas and electric appliances, tableware, refrigeration units and most commonly installed equipment.
A PDF version is also available for download: FEA Recommission Guide.
The PDF guide provides valuable information on what to check and how to safely bring your equipment back to life.
---
Updated Food Standards Agency guidance (14.04.2021)
To support the hospitality sector during this reopening phase, the Food Standards Agency has issued refreshed guidance aimed to support food businesses prioritise food safety as well as customer and staff wellbeing, when restarting operations.
The FSA is here to help food businesses do the right thing and would encourage those across the food sector to share the following assets with their networks:
The guidance is to help employers, employees and the self-employed understand how to work safely during the pandemic and how to prioritise food hygiene and food safety when reopening after a period of closure.
Food businesses can download the reopening checklist to work through the checks they should make when restarting operations, and to record progress when reviewing their processes.
As the government's roadmap progresses towards the reopening of indoor hospitality venues and the eventual lifting of all legal limits on social contact, the above guidance will help businesses stay safe, get compliant and remain confident in being able to do the right thing.
Supporting information: UK Governments' Roadmap out of Lockdown.

---
Lockdown 3 | FEA Letter to the Prime Minister
The Covid-19 measures are adding significantly to the pressure on the foodservice equipment supply chain, because hospitality operator outlets have been forced to close.
To that end the FEA have called for targeted, immediate and continued support for the sector on behalf of our 194 members who supply 80% of new equipment sold into hospitality and who also design install and service equipment in a letter to Prime Minister Boris Johnson. Our members are wholly dependent on the operator sector for their business. Any recovery is unlikely to be evident until Q3 2021.
The letter will also be sent to the Business Secretary and to the Chancellor of the Exchequer. 
Please reuse the content for your own representation too.
Download the letter here.
---
FEA Critical Worker Status Letter
In recognising the challenges that some member's employees experienced in the first lockdown, the attached letter has been prepared for your own use, should you wish.
We would propose that the letter is held by employees and that companies and employees are able to substantiate their need to work in accordance with the requirements, if questioned.
Download the letter here.
---
COVID-19 mental health guide
Rehab4Addiction have created a number of educational guides to help increase understanding and awareness of all aspects of dealing with the stress of bereavement and the lockdown. With the current coronavirus pandemic, many who live with depression are struggling to stay afloat during mandated or self isolation.
The aim is that these informational guides can be one of many stepping stones for those struggling and their loved ones to better understand their situation and lead them to find a supportive and safe environment, especially during these times.
View the guides here.
---
FEA asks Boris Johnson to support the foodservice equipment supply chain (November 2020)
Open letter to Prime Minister proposes three-point financial support package
Read the full article and download the letter here.
---
How will the Covid-19 pandemic effect Brexit?
L Alan Winters, Professor of Economics of the UK Trade Policy Observatory at the University of West Sussex gives his expert analysis on factors including:
Covid;

Brexit,

Trade policy on Rules of Origin,

Free Trade Agreements,

Stock market developments,

Will the pound go up or down?
All this and more was covered in our 30 minute webinar. Providing a valuable set of information and comment to assist with FEA member scenario planning.
---
Social distancing and making your workplace COVID-secure
Where possible you should keep people 2m apart. If this is not viable, keeping 1m apart with risk mitigation is acceptable.
In the UK some rules such as social distancing may be different in each of the devolved nations. However, HSE regulates in all of these countries. You should check the public health guidance for the country you are in:
You must ensure that workers and other people visiting your workplace understand and comply with the measures you put in place.
Social distancing should form part of your business's risk assessment and is one of the steps needed to make your workplace COVID-secure.
The gov.uk guides on working safely during coronavirus (COVID-19) explain the control measures that different types of business should consider. These cover construction, factories, offices, vehicle use and other types of work. The guides apply to workplaces in England.
The following guidance sets out the main control measures and additional measures where social distancing is not possible:
---
FEA CEDA Bouncebackability webinar, delivered by Steve Loughton (07.07.2020) 
Co-hosted by the FEA and ceda, and delivered by Steve Loughton, founder of Cupola Consulting this webinar covered CV writing, general do's and don'ts, and how to work with recruiters.
With many in the industry having been hit hard by the effects of coronavirus, FEA and ceda joined forces to deliver a webinar covering key aspects pertinent to individuals seeking employment.
The fallout from coronavirus and the subsequent lockdown will mean many people face a tough road ahead. This webinar covers topics that will enable individuals to enhance their job prospects.
You can watch the webinar on our YouTube channel or download the presentation.
---
FEA Guide to COVID-19 and Kitchen Best Practice 
As we begin operating in the new normal, FEA has put together guidelines covering best practice in the kitchen for foodservice operators. The guidance covers those areas that are directly impacted by the COVID-19 crisis and are based on various sources, several of which FEA contributed to.
View the whole article and download the document here.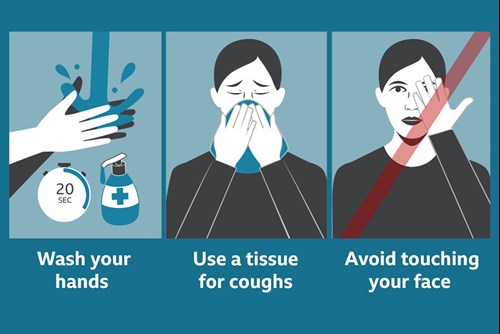 ---
FEA Market Update survey results (19.06.2020)
We surveyed FEA Members on COVID-19 specific issues to provide an insight into how the coronavirus pandemic had effected their business.
The survey also looked at six, twelve and eighteen month market forecasts, assessing how they feel the market will perform in the coming months.
Watch the full UK Market update presentation here.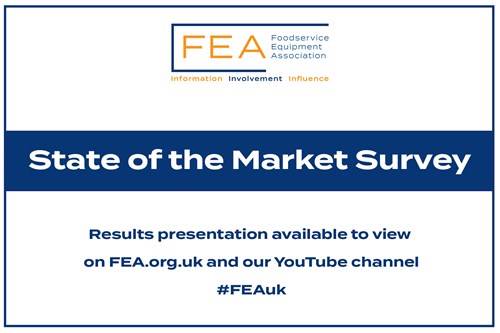 ---

Data Management: Your Responsibilities Explained, Carl Kruger (22.05.2020)
Hosted by data management expert Carl Kruger, Director of Qualitation, this webinar covers content that will help individuals and businesses fully understand their obligations and responsibilities relating to the management of data within the business.
Click here to view full article and webinar.
---
FEA guide to re-commissioning foodservice equipment after prolonged closure
As we move out of lockdown, kitchens will need to reopen, possibly very quickly. This document is intended as a guide only... read the full article.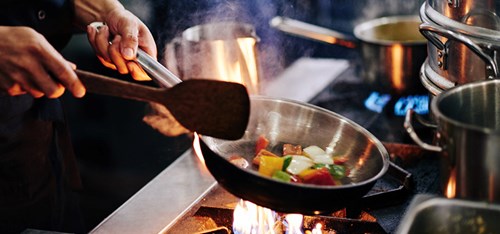 ---
Catering Insight interview: FEA Chief Executive Keith Warren outlines how FEA's Government liaison is benefitting the industry during the corona virus crisis
"We will keep seeking the reassurance from Government that they will provide the support that businesses need." FEA Chief Executive Keith Warren speaks to Catering Insight editor Clare Nicholls about how the FEA is representing the industry to government during the coronavirus crisis.
---
COVID-19: A Guide on Returning Business Operations to the New Normal
Fellow trade association BEAMA have produced a guide on returning to the new normal detailing how to approach the new challenges businesses and workplaces will face.
The guidelines are based on industry Best Practice and current Government advice and if followed will help companies become COVID secure, the term favoured by Government.
Each companies operations are different, and although this set of guidelines is appropriate, each company should reflect specific situations in their company guidance and rules.
Download:
A Guide on Returning Business Operations to the New Normal
Supplementary Paper 1 BEAMA CV19 Return To Work Series No 1 Work In Residential Buildings
Supplementary Paper 2 BEAMA CV19 Return To Work Series Status And HSE Risk Assessments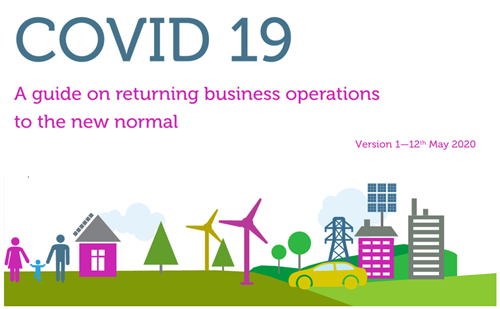 ---

Pricing in a Crisis: Some Lessons and Tips for How to Survive
Mark Peacock, The Pricing Coach, an expert on pricing strategies delivers an FEA member exclusive webinar.
In this stimulating and informative webinar, Mark shared his Do's and Don'ts that you should consider when it comes to your pricing in the current climate.
Watch Pricing in a Crisis: Some Lessons and Tips for How to Survive
---
COVID-19 Economic Impact survey results
We asked FEA members a series of yes / no questions in regards to preparations that they were making in regards to COVID-19.
The objective was to gain a comparable insight into whether businesses had changed their approach and understand the issues members were facing.
Survey issue dates:
Pre-lockdown Economic Impact of COVID-19 16.03.2020 – 23.04.2020, 39 respondents
Post-lockdown Economic Impact of COVID-1906.04.2020 – 17.04.2020, 23 respondents
A summary of the results are available during the introduction of our Preparing for the New Normal webinar.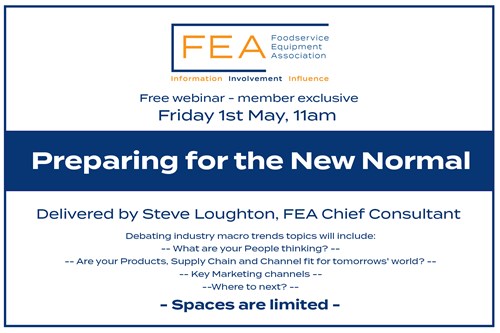 ---
A letter on behalf or the industry to Prime Minister Boris Johnson


On Friday 24th April the FEA, in collaboration with ceda, sent a letter to Prime Minister Boris Johnson and to our contact at BEIS.
We are seeking an immediate extension to the furlough scheme for the foodservice equipment supply chain in line with any parallel development for hospitality industry operators and immediate alignment with business rate support as an eligible group. It is critical that there is total alignment between our sector and the hospitality operator sector.
This should specifically include equipment manufacturers, distributors and importers, designers, dealers, service and spare parts companies.
Only by doing this will there be the infrastructure, skills, and services to support current needs and support the regeneration of the industry when that time comes.
The letter is also being used to seek support from UK Hospitality and the British Takeaway Campaign.
FEA Patron Lord Trefgarne will be sending it, on our behalf, to Michael Gove and to Rishi Sunak.
We will continue to lobby Government for the betterment of everyone involved within the industry.
With your support and involvement a collective approach boosts efforts and creates a loud unified voice.
Letter to The Rt. Honourable Boris Johnson MP (24.04.2020)
Letter to local MPs.
Following the letter's circulation, the content was covered in Foodservice Equipment Journal, The Caterer and Public Sector Catering.
---
A Playbook for Recovery: How to Use Uncertainty to Power Your Growth
The participation in our latest webinar delivered by Martyn Drake, A Playbook for Recovery, was very strong with over 55 participants. The member involvement further demonstrates the value of the content that is being delivered.
A Playbook for Recovery looked at the potential competitive advantages gained by businesses who adopt an adaptive approach to business strategy.
Breaking your strategy down into 'chunks' rather that simply focussing on your top-line revenue target allows you to be more malleable and adapt to the business climate when it changes.
Again, Martyn has offered a free one on one 30 minute consultation for any FEA members that would like to discuss any of the points further.
To arrange you call please contact him via email: martyn@binleydrake.com
Watch the webinar in full.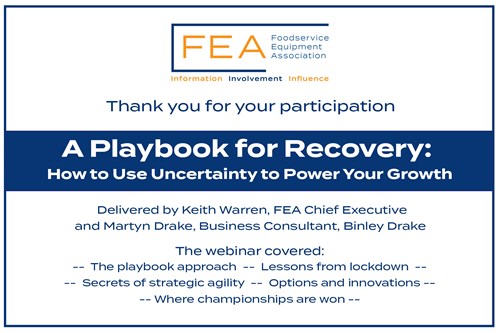 ---
BEIS Update Coronavirus (COVID-19) – Work Practices
These updates we published on 7th April 2020. To save looking through them here is a summary of the key areas covered in practical advice for employers:-
General Principles
What you need to know
Good practice for employers
Social distancing in the workplace - principles
Good practice for employers
Social distancing in the workplace - principles
Sick pay
Certifying absence from work
Shift-working and staggering processes
What to do if an employee needs time off work to look after someone
Staff canteens and rest areas
Limiting spread of coronavirus (COVID-19) in business and workplaces
Use of face masks in the community
Moving goods
Cleaning and waste disposal
Handling post or packages
Food safety
Full article update can be found here.
Sector specific guidance here, including manufacturing.
Full sector overview can be found here.
---
COVID Shutdown: Coming Out Stronger Than You Went In

We had over fifty participants attend our COVID Shutdown webinar; it felt good to have so many members engage and interact with us.
Delivered by business consultant Martyn Drake, the webinar covered key areas of focus for businesses, the importance of having a playbook and not a plan,  and the 'new normals'.
Martyn is offering participants a free half-an-hour follow-up call to discuss any of the points covered. You can arrange your call by liaising directly with him: martyn@binleydrake.com
If you participated in the webinar we'd love to hear your thoughts and feedback by commenting on our LinkedIn post.
You can download Martyn's presentation here.
Watch the full COVID Shutdown webinar.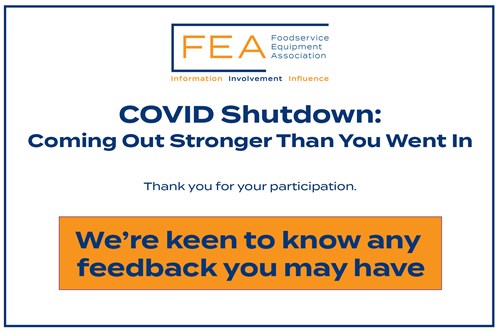 ---
FEA Equipment and Systems Preservation Guidance
We are well aware of the effect the Covid-19 outbreak is having on our industry. If you are in a position and it is safe to do so, there are some key measures you should be taking to protect your equipment. These measures will prolong the on-going life of the machine and ensure it is safe to use again in the future.
We have produced a document that covers the following equipment and systems:
Warewashing
Water Filters
Cooking Equipment
Veg Prep Units
Refrigeration
Freezers
Coldrooms
Ventilation Systems
Kitchen Drainage
Fabrications
Food waste management equipment (Dewaterers, Digesters etc.)
Ice Makers:
Coffee Machines and Brewers
Juice/Water based beverage machines:
Ice Cream /Frozen Granita/Frozen Cream Machines
We have a short video below detailing the essential tips below, you can also download the full document here.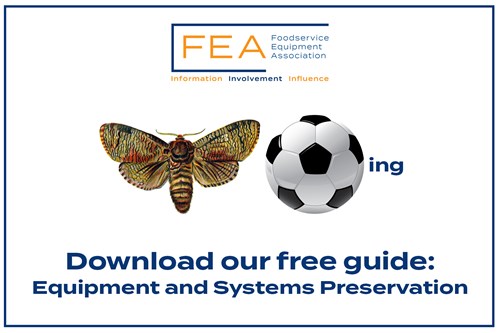 ---
Department for Business, Energy & Industrial Strategy
We would advise that you sign-up to the BEIS email update as this will keep you up to date with the latest information on how businesses can access support as further details become available. You can sign-up here.
The last update covered:
Business Rates holiday for retail, hospitality and leisure
Small Business Grant Scheme
Coronavirus Business Interruption Loan Scheme
A breakdown of the temporary, timely and targeted measures set out by the Chancellor can be found here.
---
Government Guidance
Coronavirus (COVID-19): what you need to do
COVID-19: guidance for employees, employers and businesses
Institute of Directors Coronavirus support hub
The IoD Coronavirus Hub is designed to provide you with access to the latest advice, information and resources you need to support your business.
Useful links:
What are the symptoms of Coronavirus: How do I protect myself?
Who is considered a key worker?
A guide to the Coronavirus Job Retention Scheme and furloughed workers
A guide to temporary home-working
Top tips on how to maintain the wellbeing of your employees while they work from home