The benefits of joining a trade association
Join the FEA and you'll benefit from privileged access to regulatory and legislative advice, active market and business support, and involvement in a supportive community of like-minded business managers and peers.
We're stronger together
The FEA represents over 200 member companies, embracing the needs of the smallest independent businesses to the largest organisations. Our purpose is to represent, influence, inform and involve the UK foodservice equipment supply chain. We empower our members with an expansive foundation of market knowledge through our communication channels and product focussed groups.
Download the full membership benefit guide here.
---
Our work is underpinned by three pillars of focus
Information
FEA members receive privileged access to vital information and practical business services, empowering them with the knowledge they need to succeed. The support our members benefit from aids business growth and helps them to meet the challenges of today's industry environment more effectively.
Involvement
Access to the FEA's unique and valuable membership community of over 200 industry leaders and peers from across the industry spectrum provides unparalleled networking opportunities and a valuable forum in which to share issues and experiences.
Influence
The FEA enjoys contact and representation at the highest level with Government and many other influential bodies. The Association will actively represent your interests on key industry issues and seek to create a more favourable climate for the foodservice equipment industry in the UK, Europe and globally.
---
A place for you at the FEA
Our membership remit encompasses the full spectrum of foodservice equipment manufacturers and importers, distributors of light and heavy equipment, and service providers.
Types of Membership
Membership is by annual subscription and falls into two categories. Full Membership; for foodservice equipment manufacturers, distributors and service companies. Associate Membership; for companies who are substantial suppliers and providers of materials or services to full FEA member companies.
Our Role and Objectives
To further the interests and raise the standards of the industry, and promote the welfare of our members
Effective collaboration between all suppliers engaged in the Foodservice Equipment value chain.
Active cooperation with other like-minded trade associations in the UK and worldwide.
Sustained representation to relevant government departments and regulatory authorities locally, nationally and internationally.
FEA Operational Structure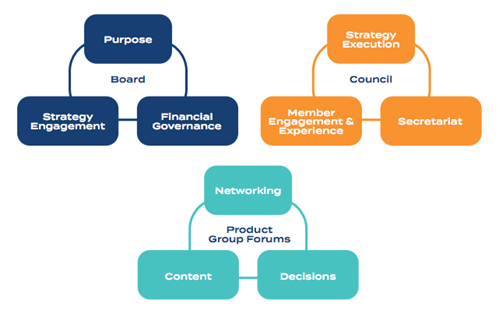 Open access to all workshop groups
To encourage active member involvement, we have structured our product group forums to ensure that all members have an opportunity to engage through active representation.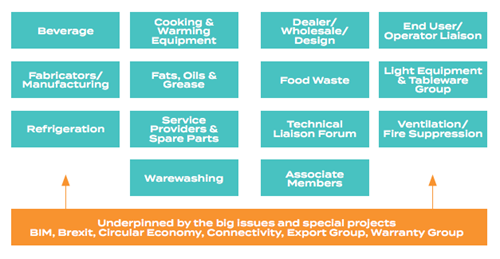 Stay up-to-date with all that we do, follow us on: