FEA Industry Insight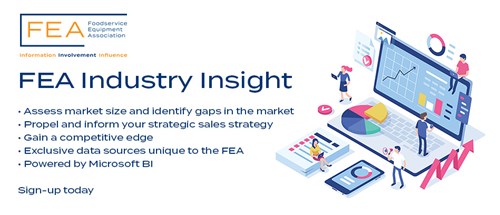 FEA Industry Insight is a powerful market modelling system that provides up-to-date insight on the installed equipment market. The platform has been developed with FEA members and top foodservice equipment market analysts to ensure that the data is up-to-date, robust and reliable. The exclusivity of our data sources means that this market insight is unique to the FEA.
Our data covers three primary food service sectors; Cooking and Warming, Refrigeration, and Warewashing. 
Sign-up to FEA Industry Insight.
---
Enhance your sales strategy with FEA Industry Insight
By using FEA Industry Insight you will be able to assess market size and identify gaps in the market enabling you to propel and inform your strategic sales strategy, giving you a competitive edge over your competition.
Easy to understand data
If you're concerned about potentially having to deal with lots of figures then there's no need to worry. The data output is delivered by Microsoft BI, a business information system that quickly connects, preps and displays insights meaning that key learnings are easy to digest; providing you with the power you need to influence strategic market decisions.
This short video explains what Microsoft PowerBI is.
---
How much is it to sign-up?
The cost comprises of the selected market segments and an Admin Access fee. The Admin Access fee relates to how many individuals require desktop access and set-up, a minimum of one Access Admin charge is applied to all purchases. For example if you purchase the 3 for 2 option you will also require a minimum of one Admin Access fee, therefore the cost will be £1750 + £150.
FEA member rates for standalone market segments:
£875 per annum - Cooking and Warming
£875 per annum - Refrigeration
£875 per annum - Warewashing
£150 admin access fee (required)
Non-member rates:
£5000 for three market segments
£150 admin access fee (required)
If you would like to find out more about the benefits of subscribing to FEA Industry Research then please contact a member of the team alternatively you can sign-up using the button below.
Sign-up to FEA Industry Insight.
Watch the FEA Industry Insight launch video below.
You might be interested in:
Social Media