Announcing the winners of the 2020 Light Equipment and Tableware Awards
FEA announces the winners of the Light Equipment and Tableware Awards 2020
Distributor of the Year, Sales Professional of the Year and the Donald Bird Award
Brakes won a brace of trophies in the FEA's Light Equipment and Tableware (LET) 2020 awards – while Alliance was named Distributor of the Year for the fourth time in a row. 
The awards are normally announced at the annual LET Forum – but the 2020 event was a victim of the Covid 19 pandemic.  However, FEA's light equipment and tableware group still went ahead with the voting for the awards and the winners have just been announced. 
The Distributor Cup, for the Distributor of the Year, was won by Alliance Disposables.  Steve Goodliff, chair of the FEA's LET Group, commented, "To win for a fourth year in a row is remarkable.  It absolutely underlines Alliance's commitment to the industry.  They are very active when it comes to vital areas such as promoting a wide range of products and being receptive to new ideas." 
On behalf of Alliance, general manager Ryan Edge said, "I'm really delighted that Alliance have won the cup once again.  It's disappointing that the 2020 Forum had to be cancelled – but now we can look forward to the 2021 event."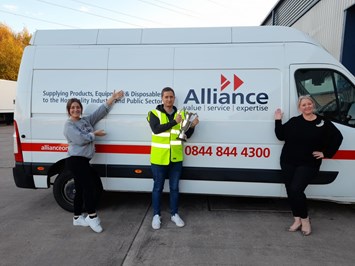 Sales Professional of the Year, which recognises the individual who has contributed most to the sales of light equipment and tableware, was won by Jodie Musgrove of Brakes Catering Equipment.  "Jodie has had a great year, adding value for her customers and successfully developing LET sales in a challenging market," said Goodliff. 
Jodie Musgrove said, "A big thank you to everyone who voted for me.  In normal circumstances we all really enjoy the LET Forum and I look forward next year's!  It's definitely the most useful and informative event we have in the calendar."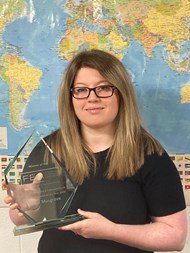 The LET awards' top honour, the Donald Bird Award, is given to an individual who has shown dedication and commitment to the industry, and who has a reputation for 'going the extra mile'.  The 2020 award went to Brian Honeyford, purchasing manager at Brakes Catering Equipment.  "I'm personally delighted for Brian, a very worthy winner," said Goodliff.  "In a normal year the award would be presented in front of around a hundred delegates at the LET Forum Dinner, and I know he would have been a very, very popular choice." 
Brian Honeyford said, "Like Jodie, I'd like to say a big thank you – I feel very honoured to have received the award.  FEA is a great organisation and I've always said the Light Equipment and Tableware Forum is one of the best events the industry puts on.  Thank you again and keep up the good work!"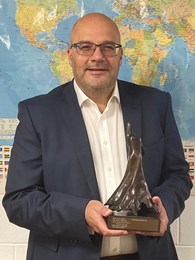 The LET Forum is the (usually) annual event where manufacturers, suppliers and distributors meet to discuss and get hands-on experience of the latest light equipment and tableware product ideas and concepts.   FEA is putting plans in place to run the LET Forum next year, so save the dates: 11th and 12th May 2021.